With the Body by Vi Challenge, you can focus on setting and achieving a 90-day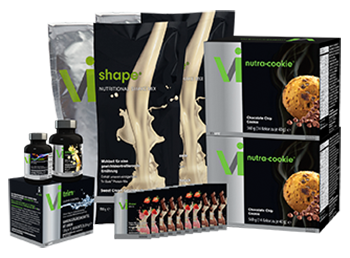 Challenge goal and then show the world how you transformed yourself and be rewarded for it.
After 90 days, submit your weight-loss, active or fitness results for a chance to become a Challenge Champion or Vi Model and enjoy cash rewards, national/international recognition, and a lot more.
The Challenge is a complete healthy lifestyle platform for everybody and every body. Having helped create over 3 million transformations worldwide, The Challenge provides all of the programs, products and support for your weight-loss and fitness goals. It's simple, affordable, effective…and FUN! Whether your goal is losing a few inches, staying active, or completely transforming yourself, our proven Challenge programs offer everything you need to achieve your goals. You can also with the daily care of Vi products find a new lifestyle and lose weight with fun or obtain a toning with our products...
Focus on a 90-day weight-loss or fitness goal, and enter for a chance to become a Challenge Champion or Vi Model and win £3000 (~€3,500) cash, professional photo shoot, personalised branding package and more.
Transformation Kit*
Optimal support while losing weight*
The comprehensive kit helps you to reach your goals for weight control and balanced diet with Vi ™ products.
Nutritional benefits
Vi-Shape® is a meal replacement for weight control. Two shakes a day to support the weight reduction. *
Two shakes a day are a good source of proteins, which contribute to an increase in muscle mass.
The nutritious and delicious cookies are a satisfying snack.
Chromium contributes to the maintenance of normal blood sugar levels.
Vi Omega Essentials ™ is a proprietary blend of essential oils uncleaned, which promotes the preservation of health.
Application Notes
Replace 2 meals a day by 2 Vi-Shape shake with 250 ml low-fat milk. Vi-Shape Nutritional Shakes should be applied in the context of a healthy diet and exercise program. During a calorie-restricted diet, it is important to maintain an adequate fluid intake. Therefore, at least 2 liters of water per day are recommended.
Give Vi Shape® mix-ins in your Shake to vary the taste.
Enjoy the delicious Nutra-Cookie® with protein and fiber as a snack.
Add 1 package Vi-Vi-Shape Trim® in Your Nutritional Shake or in your favorite beverage. Vi-Trim contains chromium, which contributes to maintenance of normal blood glucose levels.
Open Metab-Awake® once a day. Egg contains chromium, which contributes to a normal metabolism of macronutrients.
Open mornings and evenings with the health-promoting omega-3 acids DHA and EPA, which each contribute 1 Vi Omega Essentials softgel to maintain normal heart function.
The Body by Vi Challenge Champions celebration
Our Challenge Champions and Vi models were real people with real results, which are elected by the public and a Vi independent jury after their grandiose 90 days conversion story. Bewird you with your results and your history at the chance to become a Champion Challenge and be able to win the following;
€ 3,500 cash prize
Awards to the Vi events and the big stage as Challenge Champion / Vi Model
Professional photo shoot
Custom Branding Package
You will become part of the national & international marketing materials by Vi online and offline
Receive free Vi Gear, special offers and incentives
Soon the Champions come